Are you tired of complicated photo editing software that requires hours of tutorials just to perform basic tasks? Look no further – PhotoPad Image Editor might just be the solution you've been searching for. In this review, we'll delve deep into the features, benefits, and user experiences with the PhotoPad Image Editor. Whether you're a professional photographer or a casual hobbyist, PhotoPad's intuitive interface and powerful tools promise to transform your photo editing experience.
Introduction
PhotoPad Image Editor is a versatile and user-friendly photo editing software that empowers both beginners and professionals to enhance and manipulate their images effortlessly. This comprehensive review will guide you through its features, functionalities, and overall usability.
Unveiling the Power of PhotoPad Image Editor
PhotoPad Image Editor offers an array of features that cater to a wide range of editing needs:
1. Intuitive User Interface
With a clean and well-organized interface, PhotoPad eliminates the learning curve associated with many photo editors. This makes it perfect for users of all skill levels.
2. Photo Enhancement Tools
Enhance your photos with a variety of tools, including one-click auto-fix, color correction, and red-eye removal. The software automatically analyzes and enhances your images, ensuring optimal results.
3. Creative Filters and Effects
Express your artistic side with an extensive collection of filters, effects, and overlays. From vintage to modern styles, PhotoPad offers a multitude of options to elevate your images.
4. Precise Editing Tools
For more advanced users, PhotoPad provides tools for precise editing, including cropping, resizing, and adjusting exposure, contrast, and saturation.
5. Text and Graphics Overlay
Add text, captions, and graphics to your images for personalized storytelling. Whether it's watermarking your photos or creating memes, PhotoPad makes it easy.
PhotoPad Image Editor Review: Exploring Key Features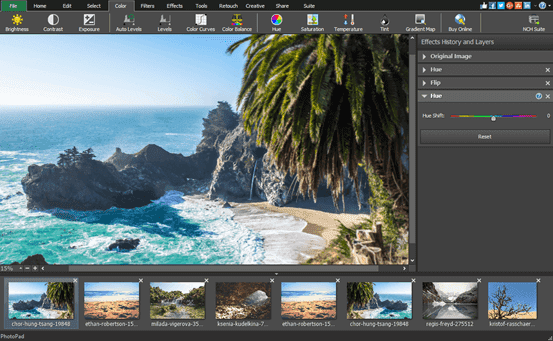 PhotoPad Image Editor's exceptional features set it apart from the competition:
1. Seamless Editing Experience
PhotoPad's smooth and efficient editing process allows you to work seamlessly on multiple projects without slowdowns or crashes, ensuring a frustration-free experience.
2. Layer Management
Utilize layers to enhance your editing workflow. PhotoPad supports multi-layer projects, making complex edits more manageable and enabling you to maintain control over each element.
3. Instant Effects Preview
See the impact of filters and effects in real time before applying them. This feature enables you to experiment with various styles until you achieve the desired look.
4. Photo Stitching
Create stunning panoramas effortlessly by stitching multiple images together. PhotoPad's auto-alignment and blending ensure a polished result.
5. Shareable Creations
Once your masterpiece is ready, PhotoPad allows you to share it directly on social media platforms or save it in various formats, including JPG, PNG, and more.
User Experiences: Bringing Photos to Life
Numerous users have praised PhotoPad Image Editor for its simplicity and power. Jane, a professional photographer, shared, "PhotoPad has become my go-to tool for quick edits and enhancements. It's user-friendly, yet it doesn't compromise on advanced features."
FAQs About PhotoPad Image Editor
Can I use PhotoPad Image Editor on both Windows and Mac?
Yes, PhotoPad Image Editor is compatible with both Windows and Mac operating systems, providing a seamless experience for users regardless of their platform.
Is PhotoPad suitable for beginners?
Absolutely! PhotoPad's intuitive interface and comprehensive tutorials make it an excellent choice for beginners looking to enhance their photos without a steep learning curve.
Can I undo changes if I'm not satisfied with the result?
Yes, PhotoPad offers an unlimited undo feature, allowing you to revert changes and experiment fearlessly.
Are there any in-app purchases or subscriptions?
While PhotoPad offers a free version with basic features, a premium version with advanced tools is available for a one-time purchase. There are no subscription fees.
Can I edit RAW image files with PhotoPad?
Yes, PhotoPad supports RAW image editing, enabling you to work with high-quality and unprocessed image files.
How does PhotoPad compare to other photo editing software?
PhotoPad's combination of user-friendly interface and powerful features sets it apart from other photo editing software. It strikes a perfect balance between simplicity and advanced functionality.
Conclusion
In conclusion, PhotoPad Image Editor emerges as a versatile and accessible solution for all your photo editing needs. Whether you're a professional photographer or a hobbyist, this software offers the perfect blend of ease of use and advanced features. With its intuitive interface, powerful editing tools, and creative effects, PhotoPad empowers you to transform your images into visual masterpieces.
So why wait? Unleash your creativity today with PhotoPad Image Editor and witness the magic it brings to your photos!